Training and Development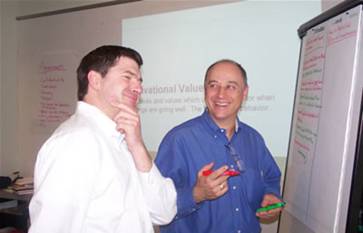 Customized Programs; Practical Solutions
Common Boundaries offers a variety of training and development programs geared to develop your company's leaders, to turn your so-so teams into high performers, and to create greater client satisfaction. We don't play around. We specialize in benefit-driven, meaningful (and also fun) training that people take back to the workplace and put into immediate use. Check out some of our programs:
Leadership & Team Building
Women's Leadership
Strategic Planning
Assessments
If you don't find a program to meet your needs, we will customize a program for you and your company.
Whether you need to get back on track or want to take your business further down the road to success, you need to train and develop the leaders in your company. You need to build teams that can move your business to new levels. You need to make strategic planning a part of the daily thought process, not an annual event.
We can help. Call us today—learning practical skills can change your workplace and your business in unimaginable ways.
Exceptionally Relevant
The Authentic Leadership Intensive was exceptionally relevant to my work with Wachovia. We work in a fluid environment and are frequently leading through influence, rather than leading with direct supervision. In this environment, gathering and practicing skills in effective, respectful confrontation are priceless. Debbie's workshop led us through four days of practicing the art of communicating uncomfortably. Practicing these skills raised a core competency of negotiating well and maintaining strong teams and relationships with our colleagues and partners.

The emphasis on practical skills made it easy to take what we learned in the safety of the classroom and practice it in the wild world of work—and it works. It is a very powerful tool.
—Ruth Hanna Strong
Senior Risk Officer, Wachovia