Products
Orenda Products to support Wellness and Anti-Aging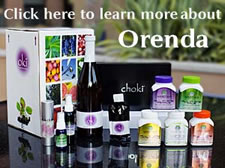 Orenda International has created this opportunity with three steps that work together to support synergistic, full-body wellness. Together, this system of supplements can help your body thrive as nature intended.
AWAKEN: support the pituitary and the body's own anti-aging processes
CLEANSE: promote natural detoxification to rid the body of toxins
FEED: nourish the body with vital nutrients
To find out more intormation, see my Orenda page.
---
Wellness Inventory
$49.95

The Wellness Inventory, is a "whole person" assessment and lifestyle program designed to help you gain personal insight into your state of physical, emotional, and spiritual wellness. The program offers guidance and tools to transform this new awareness into lasting changes in your life, and a renewed sense of health and wellbeing.
---
Wellness Program Package
$149.00
The Wellness Porgram package includes the Wellness Inventory (see above), plus 2 30-minute coaching sessions. A $300 value.
---
The Seven Aspects of Sisterhood: Empowering Women Through Self-discovery
By Debra Gawrych


The Seven Aspects of Sisterhood offers a powerful, insightful look into how women relate to one another. Using the Seven Aspect Model, stories, exercises, and inspirational sayings, it points women in the direction of understanding themselves first, in order to be more effective working with other men and women—on the job, in a family, or in an organization.
Regular Price: $23.95
Purchase online for only $22.50.
Learn more about The Seven Aspects of Sisterhood.
---
Lead from the Inside Out: A Practical Guide To Powerful Transformation
By Debra Gawrych and Monica Pierre

Lead from the Inside Out is a powerful audio experience that presents material for both men and women in a powerful and practical way so that each listener is guided to learn how to access his or her inner wisdom. Learn to harness your power and perform to your true potential.
Regular price: $17.95.
Purchase online for only $16.15.
Learn more about Lead from the Inside Out.
---
Book and CD Combo
Save $5.00 when you order the Seven Aspects of Sisterhood book and the Lead from the Inside Out CD together.
---
Book, Analysis, and Ten Tips to Self-Esteem Package
The 7 Aspects of Sisterhood Book
Personal analysis of your types ($25.00)
Analysis of your types under stress ($15.00)
Ten Tips to Self-Esteem ($5.00)
The total value of this package is $68.95, but you can purchase it online for only $48.95 Save $20!
---